Telecoms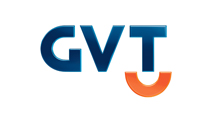 GVT is the leading alternative telecommunications operator for fixed ultra high-speed broadband, fixed-line telecommunications and Pay-TV in Brazil.
GVT offers comprehensive and advanced telecommunications services to markets ranging from large, mature sectors with strong cash-flow generation (such as conventional telephony) to high-growth sectors (such as broadband, Pay-TV using satellite and IPTV technology, Internet services and VoIP). This approach allows the Company to target a broad market, to offer one-stop shopping for all fixed-line telecommunications Internet and Pay-TV services, and helps stabilize its revenues.
Delivering content, interactivity and managed services over broadband Internet is part of the strategy to lead the broadband and Pay-TV multiservice segment in Brazil. GVT is aware of the need to deliver ultra high-speed Internet, enabling the customer to have a truly connected home, with multiple devices operating over the same broadband connection.
GVT's network is the most modern in Brazil. It includes one of the most extensive local access networks and long-distance fiber infrastructures in the country, which supports its leading position in the NGS (Next Generation Services) market and allows the Company to expand its presence nationwide.
At the end of December 2013, GVT operated in 150 Brazilian cities in 20 states as well as in Brasilia. In 2013 alone, the Company launched operations in 14 cities across five states, with almost 16 million inhabitants. It also began serving the retail market of São Paulo, which is the largest city in Brazil.
Vivendi owns 100% of GVT since 2010.
| | | | | |
| --- | --- | --- | --- | --- |
| | | | | |
---
Update date: