Music
Universal Music Group
Universal Music Group (UMG) is the world leader in recorded music, with a global market share of more than 30%. It covers three main businesses: recorded music, music publishing and merchandising.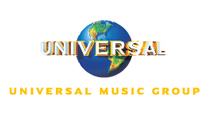 The recorded music business discovers and develops artists. These artists are signed under one of the 50 UMG labels. In 2014, the best sellers were not only recorded by confirmed international artists such as Katy Perry, Maroon 5 and Taylor Swift, but also by new talent, for example Sam Smith, Ariana Grande, Lorde, 5 Seconds of Summer, Stromae and Imagine Dragons, and by local artists such as Indila in France and Helene Fischer in Germany.
The music publishing business acquires music rights and licenses those rights for use in recordings, movies, televised broadcasts, advertising, concerts and other public events. The combined music publishing catalog of Universal Music Publishing Group (UMPG) contains more than three million titles, either owned or managed.
UMG has developed a merchandising business via its Bravado subsidiary, for artists under contract with UMG. Bravado designs branded products that are sold during tours, in specialty stores and online.
The digital revolution has had the effect of transforming the music business model during the last few years. Music streaming has recently developed significantly, overtaking downloading in many countries. UMG supports these new consumption methods, particularly through partnerships with Spotify, iTunes, Deezer, Google and Vevo.
UMG is a wholly-owned subsidiary of Vivendi.
| | | | | |
| --- | --- | --- | --- | --- |
| | | | | |
---
Update date: