Vivendi: strong operating performances in 2018
Published on
                                                                                Paris, February 14, 2019
Vivendi: strong operating performances in 2018
Revenues up 11.3% (+4.9% at constant currency and perimeter)
EBITA up 33.0% (+24.7% at constant currency and perimeter); significant improvement in the profitability of the main businesses
Adjusted net income up 33.6% excluding 2017 favorable exceptional items[1]
Earnings attributable to Vivendi SA shareowners of €127 M include the write-down of the TIM shares (-€1.1 Bn) but do not include the capital gain on Ubisoft (€1.2 Bn)
Opening of UMG's share capital: corporate structure reorganization completed at year-end 2018; launch of Vendor Due Diligence
Proposed dividend with respect to 2018 fiscal year of €0.50 per share, up 11.1%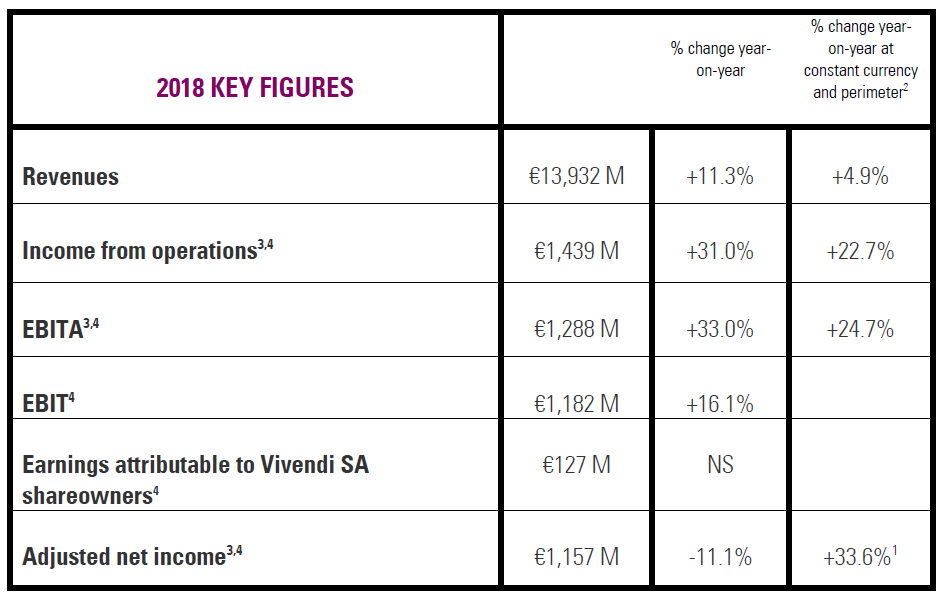 [1] In 2017, the adjusted net income notably included a tax income of €409 million following the favorable settlement of the litigation relating to the Consolidated Global Profit Tax System of 2011.
[2] Constant perimeter reflects the impacts of the acquisition of Havas (July 3, 2017), the acquisition of Paylogic by Vivendi Village (April 16, 2018) and the sale of Radionomy by Vivendi Village (August 17, 2017).
[3] Non-GAAP measures.
[4] A reconciliation of EBIT to EBITA and to income from operations, as well as a reconciliation of earnings attributable to Vivendi SA shareowners to adjusted net income, are presented in Appendix II.
This press release contains audited consolidated financial results established under IFRS, which were approved by Vivendi's Management Board on February 11, 2019, reviewed by the Vivendi Audit Committee on February 12, 2019, and by Vivendi's Supervisory Board on February 14, 2019.
---