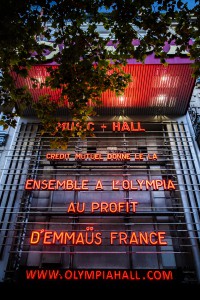 The Vivendi group's entities are putting together a fantastic television show filmed at l'Olympia, with the generous support of various artists. While l'Olympia is still closed to the public, the event will be broadcast on June 9 on C8 and CStar, raising funds for the association Emmaüs France.
May 27, 2020, 3 p.m. Spotlights light up the room once more, the curtains are up, technicians are busy with preparations, and, one by one, the artists take to the stage. L'Olympia is finally finding its feet and its purpose again. For the last ten weeks, time has stood still in this Parisian venue, its red chairs standing empty.
To help revive the live-entertainment industry and in support of a great cause, the legendary venue is opening its doors as a one-time event to the artists and industry members involved in "Ensemble à l'Olympia", a musical television show in the name of solidarity that will be broadcast on June 9, with its profits going to Emmaüs France, which has been left in an extremely fragile state by the health crisis.
The driving force behind this project is Christophe Sabot, President of Olympia Production (Vivendi Village) and CStar, who was eager to demonstrate that culture and music do not stop even in the tricky times we are going through: "It's thrilling to see such a buzz at l'Olympia again, to see the artists and technicians looking happy. We've put this plan together to let artists take to the stage again and to get things back into motion as we await the return of normal conditions which will allow us to reopen." 
Over the course of a few weeks, Vivendi's businesses worked together with Canal+ Group, l'Olympia, Olympia Production and Flab Prod, and, along with the generosity of the artists involved and the support of Crédit Mutuel, l'Olympia's long-standing partner, this helped give birth to "Ensemble à l'Olympia", an initiative designed to help support Emmaüs.
The festive event was recorded on May 27 and 28 at l'Olympia, under extremely strict health and safety conditions and with access closed to the public. Benjamin Biolay, Boulevard des Airs, Patrick Bruel, Claudio Capéo, Dadju, Thomas Dutronc, Camélia Jordana, Ninho, Catherine Ringer, Sofiane, Soolking, Tryo and many others showed great enthusiasm at the idea of taking part: it's a great opportunity for artists to return to the stage, even if it's without an audience, following the ban on all shows, concerts and festivals in France since March 10.
The artists' joy at seeing each other again during the two days of recording was palpable. L'Olympia was filled once more with laughter, good spirits and the pleasure of each other's company. When passing through a dressing room, you could find the group Tryo having a jam session, with Claudio Capéo applauding… And Thomas Dutronc not far away, pretending to sing on stage with a mask on.
There will be plenty of surprises in store for viewers of the event. The artists will be singing both on stage and also in all the other magical and lesser-known areas of l'Olympia, giving viewers a peek inside l'Olympia. They all want to take part in this special show to share a message of hope and vigilance, at this time when, more than ever before, artists need the support of the public and the public needs music.
>> See the "Ensemble à l'Olympia" press release here (in French).
Emmaüs has only ever appealed publicly for funds twice in its history: once in the winter of 1954 with its now-famous "uprising of kindness" (insurrection de la bonté) organized by Abbé Pierre, and now, to help tackle the Covid-19 crisis. Vivendi is supporting Emmaüs France in its efforts. https://emmaus-france.org/
Copyright: Mathieu Ninat/Canalplus