Paris, November 14, 2014
Note: This press release contains unaudited consolidated earnings established under IFRS, which were approved by Vivendi's Management Board on November 7, 2014.
Vivendi: Earnings for First Nine Months In Line with Forecasts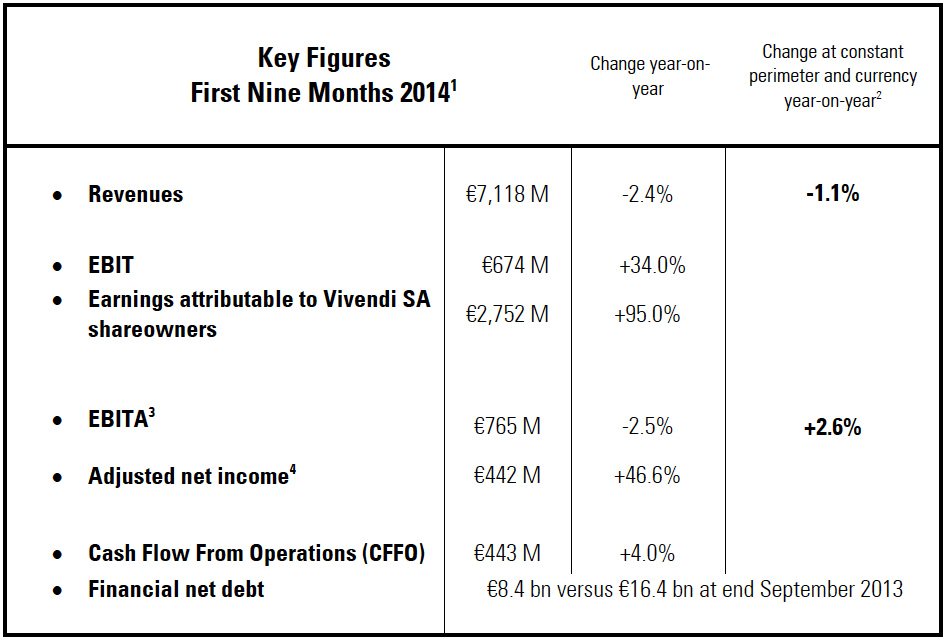 Vivendi produced satisfactory results in the first nine months of 2014. EBITA amounted to €765 million, a 2.6% increase at constant currency and perimeter mainly due to earnings generated by Universal Music Group (UMG). Canal+ Group's results were supported by its international operations; in France, Canalplay, its subscription video on demand service, accelerated its growth.
Net income increased significantly largely as a result of the redemption of loans over the past 12 months. In addition, the application of IFRS 5 resulted in a sharp increase in earnings from discontinued operations because it does not take into account amortization for 2014.
Vivendi is actively pursuing its transformation work as an integrated industrial media and content group.
Vivendi is reducing its presence in the telecoms sector. Having received the authorization granted by the French Competition Authority on October 27, 2014, the completion of the merger between SFR and
Altice/Numericable Group should take place on November 27. In addition, following the agreement signed on September 18, 2014, the completion of the acquisition of GVT by Telefonica is expected during the second quarter of 2015.
In addition, Vivendi is also reinforcing its presence in media and content, as exemplified by the late October launch by Canal+ of a new 100% African channel in some 20 countries on that continent.
————-
[1] As a reminder, in compliance with IFRS 5, GVT (as from the third quarter 2014), SFR (as from the first quarter of 2014) as well as Maroc Telecom group and Activision Blizzard (as from the second quarter of 2013) have been reported in Vivendi's Consolidated Financial Statements as discontinued operations. In addition, Vivendi deconsolidated Maroc Telecom group and Activision Blizzard respectively as from May 14, 2014 and October 11, 2013, i.e. the date of their effective sale by Vivendi. Therefore neither GVT nor SFR, nor Maroc Telecom group, nor Activision Blizzard were included in revenues, EBIT, EBITA, CFFO and adjusted net income. Their respective contributions to earnings attributable to Vivendi SA shareowners as well as any capital gains were recorded under the line "Earnings from discontinued operations".
[2] Constant perimeter reflects the following changes in the scope of consolidation:
– at Canal+ Group: it excludes the impacts in 2014 of the acquisitions of Red Production Company (December 5, 2013) and of Mediaserv (February 13, 2014); and
– at UMG: it excludes the 2013 impacts of operating the Parlophone Label Group repertoire.
[3] For more information about EBITA, see Appendix II.
[4] For the reconciliation of earnings attributable to Vivendi SA shareowners to adjusted net income, see Appendix V.