Revenues increased to €16.09 billion, up 1.2% compared to 2019
EBITA increased to €1.63 billion, up 6.6% compared to 2019
Earnings before provision for income taxes[1] increased to €2.18 billion, up 47.7% compared to 2019
Universal Music Group: successful opening of UMG's share capital with 20% owned by a consortium led by Tencent; planned distribution of 60% of UMG's share capital to Vivendi's shareholders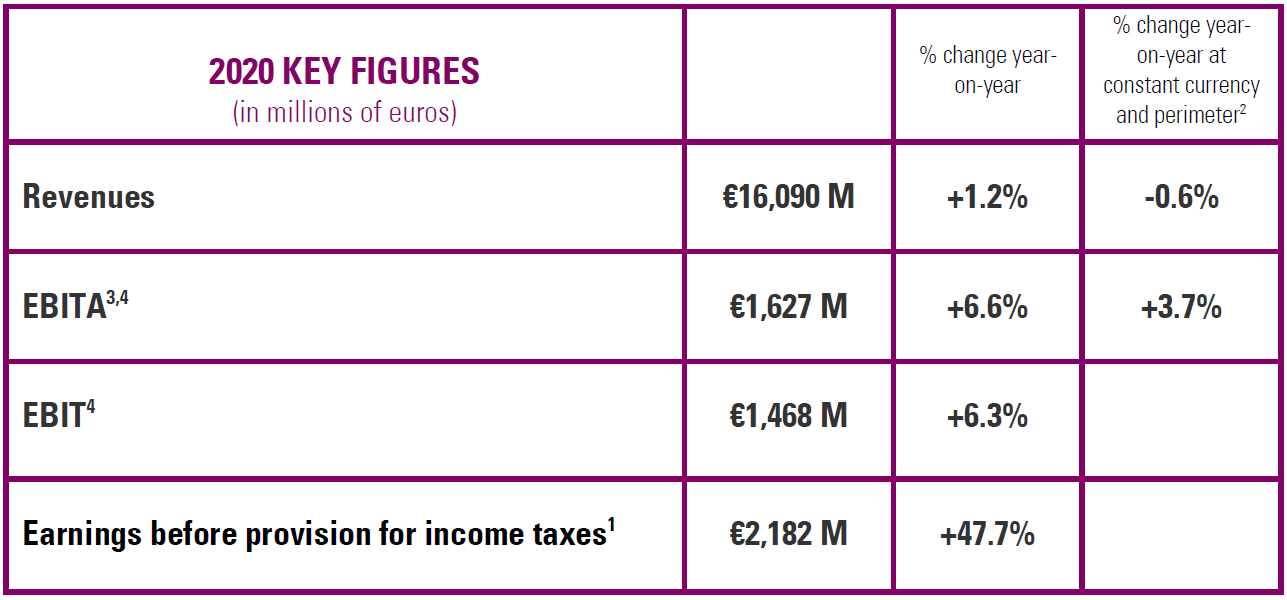 [1] Performance metric most comparable with the performance recorded in 2019. In 2019, earnings attributable to Vivendi SE shareowners benefited from a €473 million current tax income relating to the utilization of foreign tax receivables in respect of the group's exit from the Consolidated Global Profit Tax System. In addition, Vivendi owned 100% of UMG's capital in 2019.
[2] Constant perimeter notably reflects the impacts of the acquisition of M7 by Canal+ Group (September 12, 2019), the acquisition of the remaining interest in Ingrooves Music Group, which was consolidated by Universal Music Group (March 15, 2019) and the acquisition of Editis (January 31, 2019).
[3] Non-GAAP measures.
[4] A reconciliation of EBIT to EBITA are presented in Appendix I.
About Vivendi
Since 2014, Vivendi has been focused on building a world-class content, media and communications group. In content creation, Vivendi owns powerful, complementary assets in music (Universal Music Group), movies and series (Canal+ Group), publishing (Editis) and video games (Gameloft) which are the most popular forms of entertainment content in the world today. In the distribution market, Vivendi has acquired the Dailymotion platform and repositioned it to create a new digital showcase for its content. The Group has also joined forces with several telecom operators and platforms to maximize the reach of its distribution networks. In communications, through Havas, the Group possesses unique creative expertise in promoting free content and producing short formats, which are increasingly viewed on mobile devices. In addition, through Vivendi Village, the Group explores new commercial activities in live entertainment, franchises and ticketing that are complementary to its core activities. Vivendi's various businesses cohesively work together as an integrated industrial group to create greater value. www.vivendi.com
Important Disclaimers
Cautionary Note Regarding Forward-Looking Statements. This press release contains forward-looking statements with respect to Vivendi's financial condition, results of operations, business, strategy, plans and outlook, including the impact of certain transactions and the payment of dividends and distributions, as well as share repurchases. Although Vivendi believes that such forward-looking statements are based on reasonable assumptions, such statements are not guarantees of future performance. Actual results may differ materially from the forward-looking statements as a result of a number of risks and uncertainties, many of which are outside our control, including, but not limited to, the risks related to antitrust and other regulatory approvals as well as any other approvals which may be required in connection with certain transactions and the risks described in the documents of the Group filed by Vivendi with the Autorité des Marchés Financiers (the French securities regulator), which are also available in English on Vivendi's website (www.vivendi.com). Investors and security holders may obtain a free copy of documents filed by Vivendi with the Autorité des Marchés Financiers at www.amf-france.org, or directly from Vivendi. Accordingly, we caution readers against relying on such forward-looking statements. These forward-looking statements are made as of the date of this press release. Vivendi disclaims any intention or obligation to provide, update or revise any forward-looking statements, whether as a result of new information, future events or otherwise.
Unsponsored ADRs. Vivendi does not sponsor an American Depositary Receipt (ADR) facility in respect of its shares. Any ADR facility currently in existence is "unsponsored" and has no ties whatsoever to Vivendi. Vivendi disclaims any liability in respect of any such facility.
Although the COVID-19 pandemic is having a more significant impact on certain countries or businesses than others, in 2020, Vivendi has demonstrated resilience in adapting its activities to continue to best serve and entertain its customers, while reducing costs to preserve its margins. The business activities showed good resilience, in particular, music and pay television. However, as previously mentioned, the other businesses such as Havas Group and Vivendi Village (in particular live entertainment) were affected by the pandemic's effect. Editis has enjoyed a strong rebound in its businesses in France since June 2020.
Vivendi continually monitors the current and potential consequences of the crisis. It is difficult at this time to determine how it will impact Vivendi's results in 2021. Businesses related to advertising and live performance have a risk of being impacted more than others. Nevertheless, the Group remains confident in the resilience of its main businesses. It continues to make every effort to ensure the continuity of its activities, as well as to best serve and entertain its customers and audiences while complying with the guidelines of authorities in each country where it operates.
In 2020, Vivendi tested the value of goodwill allocated to its Cash-Generating Units (CGU) or groups of CGU by applying valuation methods consistent with previous years. Vivendi ensured that the recoverable amount of CGU or groups of CGU tested exceeded their carrying value (including goodwill). In 2020, government measures implemented to address the COVID-19 pandemic in the main regions where Vivendi operates, namely population lockdowns and the closing of certain businesses, have slowed down the conduct of certain business activities, which adversely affected the operating performance of Vivendi's businesses in 2020, in particular Havas Group, Studiocanal and Vivendi Village. Notwithstanding the uncertainties created by the COVID-19 pandemic, Vivendi considered that the decline in the operating performance of these businesses observed in 2020 is unlikely to be permanent and should not affect their long-term outlook.