Gameloft and the LEGO® Group partner to build an awesome LEGO® mobile game
Published on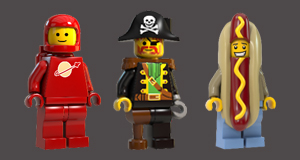 Fans warning! Gameloft and LEGO® will launch a mobile game in 2019 that  will bring over 40 years of LEGO® minifigure history and universes.
Set in a new LEGO® world, the game will offer LEGO® fans of all ages an epic adventure celebrating iconic LEGO® collections. Players will find the fun and creativity that make the LEGO® brand one of the most beloved brands on Earth and will be able to play on mobile with their all-time favorite LEGO® minifigures and sets.
Players will be able to play with the Red Classic Spaceman (1978), Captain Red Beard from Set 6270 (1989) or the Hot Dog Man from the LEGO Minifigures Series 13 (2015).
>> See the press release here.