Gameloft turns 20
Published on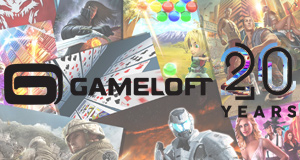 On this occasion, Gameloft offers players a birthday gift: Gameloft Classics, an application allowing to discover 30 emblematic games of the mobile game.
Founded in 2000 in Paris, France, at the dawn of the new millennium, and originally created to bring video games to mobile devices, today Gameloft is a multiplatform developer for mobile, PC and consoles, among others. The leader in game creation and publishing is proud to contemplate its past and recognize its influence on the video game industry as a whole. With 20 years of history, nearly 800 games and a bright future ahead of it, Gameloft wishes to push the limits for the years to come. 
To celebrate this milestone, Gameloft is offering a special birthday gift to players. With Gameloft Classics, a free application available on Android devices, players discover the pleasure of retro gaming thanks to 30 iconic mobile games, some of which are available for the first time on smartphones. Some of Gameloft's greatest successes are of course present, which helped define mobile gaming from the early 2000s to today. 
Gameloft Classics, which already records 100,000 downloads, allows to rediscover Bubble Bash 2, a classic of the puzzle game, Date or Ditch 2, a classic of the simulation of romantic relationships, NOVA, the original shooter, Block Breaker Deluxe 2 & 3, classics of the game arcade, and many others. 
>> See the press release here (in French).