International boxing competitions are back in Africa!
Published on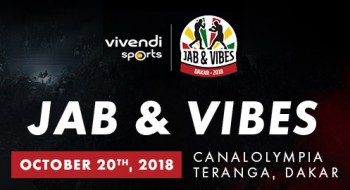 Vivendi Sports is moving forward in Africa! After a cycling race that took place under the aegis of the Union Cycliste Internationale in Cameroon, the Group's unit in charge of designing and executing sporting events will organize the IBO (International Boxing Organization) Super-lightweight World Championship, in association with Malamine Koné Events, at the CanalOlympia Teranga premises in Dakar, Senegal, on October 20th.
This international boxing gala will bring together fighters from Senegal, France, Congo, South Africa, Belarus, Cameroon, Algeria, Nigeria and Tunisia, and will mark the return of international boxing to Africa.
Watch out for what promises to be a great night of "JAB & VIBES"!
Six fights are scheduled to take place. The highlight should undoubtedly be the confrontation between France's best super-lightweight boxers for the title of IBO World Champion: Mohammed Mimoune, former European welterweight champion, holding the IBO belt since last January, and Franck Petitjean, the challenger for the European super-lightweight title. Also part of the night's line-up are fights for the ABU (African Boxing Union) Heavyweight and Super-lightweight African Championships, along with junior Super-middleweight fights with promising French boxers.
Several Vivendi businesses have joined forces for this first edition of "JAB & VIBES", which has always been Vivendi Sports' intention from the outset. The event will take place on the premises of a CanalOlympia venue. The boxing night will be complemented by musical performances from Nix, Kiff No Beat and Sidiki Diabaté, all Universal Music Group artists. Finally, the event will be broadcast live on Canal+ sports channels in Africa and in France.