La la land: the magic of the film sparkles in the original soundtrack
Published on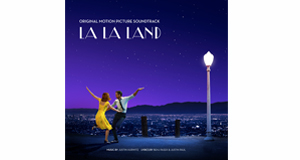 Musical comedy La La Land is already this year's unmissable film. Along with two glamourous actors and a talented director, the film's success is also helped by a fantastic original soundtrack recorded with Universal Music.
La La Land became a global phenomenon right from its release in the US on December 9. It struck the perfect balance, re-creating the golden age of Hollywood musicals in a cool, modern style. Directed by Damien Chazelle, this romantic drama tells the story of a young actress, Mia (Emma Stone) and Sebastian (Ryan Gosling), a pianist who dreams of opening his own jazz club. After meeting, they push one another to believe in their own artistic talent and follow their dreams.
The music was composed by Justin Hurwitz and written by Benj Pasek and Justin Paul. Each piece has a hint of jazz, evoking both the dreams and ambitions of our two heroes as well as the difficulties of trying your luck in Los Angeles. Someone in the Crowd, A lovely night, City of Stars and Audition were performed by Emma Stone and Ryan Gosling either as solos or duets, while Start a fire was performed by RnB artist, John Legend.
La La Land was the star of this year's Golden Globes, winning seven awards (including Best Film and Best Original Soundtrack) and it is set to shine at the Oscars with fourteen nominations. The film's success has flourished beyond the cinema and the original soundtrack to La La Land is number three on this week's Billboard 200 US album chart.
La La Land, the Original Soundtrack is now available from Interscope globally.