Launch of a call for candidates for CANNESERIES Institute
Published on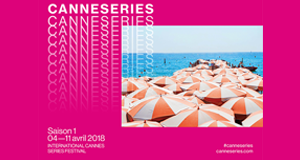 The Cannes – Vivendi/Canal+ Group International Chaire and Université Côte d'Azur (UCA) are launching today, until December 20, 2017, a call for candidates for CANNESERIES Institute, a residency dedicated to screenwriting for series.
Developed by UCA in association with Serial Eyes (DFFB, Berlin), the first edition of the Institute proposes a five-week immersion for eight young professional screenwriters who will be mentored by top international specialists in series writing and production.
Residing in Cannes for the duration of the program, the authors will develop a series project based on a theme proposed by the Canal+ Group; they will benefit from individual mentoring, will experience collaborative writing in a writers' room format, will attend master classes from professional teams from the Canal+ Group (Création Originale, Studio+, Studio Bagel, Studiocanal) and will have access to CANNESERIES. Each participant will produce a short bible and the pilot of a series (10×10' or 6×26' format).
At the end of the program, participants will receive a university diploma from UCA, and the author of one project will be offered a development agreement by the Canal+ Group.
Tuition fees and housing costs will be covered for all participants by the Cannes – Vivendi/Canal+ Group International Chaire.
To apply, visit the program website.
>> See the press release here.