Paris 2024: on the road to Lima!
Published on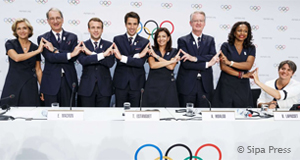 Yesterday in Lausanne, the IOC voted unanimously the double awarding of the 2024 and 2028 Olympic Games. More than ever, the entire Vivendi group is supporting the Paris 2024 bid likely to be hosting the Games in 2024.  
« Memorable, intense », that's how the French delegation – formed by Guy Drut, Sarah Ourahmoune (boxing champion), Muhammad Yunus (2006 Peace Nobel Price), Anne Hidalgo, Laura Flessel (Minister of Sports), Emmanuel Macron and Tony Estanguet (copresident of Paris 2024 bid) – spoke of this decisive day, during which Paris and Los Angeles passed their Final Presentation in Lausanne to defend their respective projects before the IOC members.
They voted for the simultaneous attribution of the 2024 and 2028 Games, which repartition will be announced on September 13th in Lima (Peru).
From the beginning, Vivendi has been committed to support Paris 2024 bid : a video made by OFF.tv (Universal Music France's audiovisual service) was part of the presentation made yesterday in Lausanne, as well as a new interpretation of Ravel's Boléro by Prequell, a UMG artist.
Click here to see the performance (from 42'20 to 44')
Sole media group to support Paris 2024 bid as an official partner, Vivendi has been working on the Parisian project for more than a year:
Gameloft launched a mobile mini-game "Paris 2024 Run" which enables the audience to discover playfully the Olympic and Paralympic project, the future sites and the fan zones Paris 2024 will provide.
Canal+ granted Paris 2024 team broadcasting time on all the group's channels.
« Le + » is a short format programme dedicated to Paris 2024 actuality on Infosport+ every Friday at 7.30.
Dailymotion is the official web host of Paris 2024 channel
50 videos have been produced by Off.tv
>> Click here to visit Vivendi's Paris 2024 dedicated page.