Popcorn vs marmelade, 'Paddington 2' in the UK cinemas!
Published on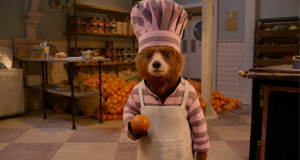 Paddington is back! The much-awaited sequel of the adventures of the beloved bear is released today in UK cinemas. A Studiocanal movie which also mobilized other Vivendi companies.
British newspapers are unanimous: The very British film every family MUST see this Christmas (The Daily Mail), Superior sequel full of charm and humour (The Independent), A deliciously funny Hugh Grant makes the bear's sequel impossible to resist (The Telegraph)…
In this sequel, the little and very willing Peruvian bear takes it upon himself to buy a special birthday present for aunt Lucy: a magical pop-up book, which has also caught the eye of the villainous and bitter D-list actor Phoenix Buchanan (Hugh Grant), who will do anything to steal it. Paddington is definitely back, with even more marmalade and trouble!
This come-back has been supported by an active communication campaign led by Studiocanal, as well as The Copyrights Group, Universal Music and Gameloft:
The original soundtrack is released by Universal Music;
'Paddington Run', the mobile game developed by Gameloft, was released a few weeks before the movie and is highly appreciated;
Paddington arrives this Christmas at Europa-Park, the leading theme park located in south-western Germany, where he will be a central feature of the England themed area;
Paddington is the star of the Marks & Spencer's Christmas Campaign for 2017;
And, last but not least, Paddington hit the streets of London three times in recent weeks: Duchess of Cambridge Kate Middleton took an impromptu twirl with the fuzzy bear during a big event in Paddington Station; London Mayor Sadiq Khan, along with the filmmakers, cast members and Michael Bond's daughter, unveiled the five spectacular pop-up book installations all across London. The world premiere, which took place on November 5, was a resounding success!
No doubt the lovely bear will win the heart of British families again!