Sam Smith is back with 'The Thrill Of It All'
Published on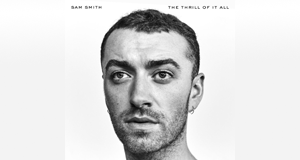 The British singer comes back with a very personal pop-soul album, which already hits the charts.
Sam Smith is back. Too Good At Goodbyes, the first single off the new album, saw global success hitting #1 in the UK and Global Spotify Charts, and, with a little more than 200,000 equivalent album units earned in the week, The Thrill Of It All is on course for his first No. 1 album on the Billboard 200 chart.
More grown-up, wiser, the 25 year-old singer has wished a 'timeless and organic' album, in which frailty, emotions appear, as well as the clear presence of instruments: brasses, cords…
It has been three years since Sam Smith's debut album In The Lonely Hour was released, and since then he has become one of the biggest acts on the planet with over 12 million global album sales and an array of impressive awards, including an Academy Award, a Golden Globe, three Brit Awards and four Grammys, among others.
>> The Thrill Of It All – Capitol Records.