The new Canal galaxy of channels in France
Published on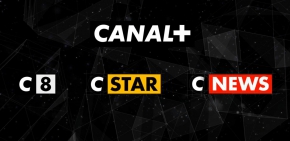 Canal Group unveiled today the new Canal galaxy of television channels in France, a group of four leading national channels with complementary models and clearly-defined editorial lines, all based on one common denominator: the Canal brand.
For the first time in Canal Group's history, the different channels they own will evolve in a unique and coherent brand universe, clearly symbolizing that they are part of the same family.
Forming the heart of this universe is Canal+, the flagship pay channel featuring premium content with exclusive programs that encourage subscription. Starting with the upcoming television programming season, Canal+ subscribers will receive 150 hours of additional exclusive content with more sports, cinema, original programs, culture and entertainment, which characterize the Canal editorial line and tone. Consequently, the amount of unscrambled content available will be reduced to an average of two hours per day.
As a result, Canal Group will now concentrate its in-the-clear programming on its other three channels – renamed to claim their belonging to the same galaxy: Canal8 (previously D8), CanalStar (previously D17) and CanalNews (previously iTélé).
The objective is to create new synergies, to strengthen the Group's offer and above all to build new gateways for its talent.
Canal8, already France's 3d largest commercial channel, aims to become a leading general entertainment channel. Canal8 intends to be resolutely optimistic, for all generations and all audiences.
CanalStar is the first generational music channel in France. It is the place where musical talent meets, expresses themselves and thrives.
CanalNews is Canal Group's news channel. It mission remains unchanged: cover news in real time, building on the Group's assets, in particular in the fields of sports and culture, to differentiate itself from increased competition.