Le théâtre de l'Œuvre is the new home for American stand-up in Paris
Published on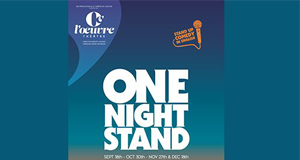 Once a month, le théâtre de l'Œuvre becomes the place to discover the emerging stars of American stand-up, the aspiring heirs to international comedy icons such as Chris Rock, Louis CK or Jerry Seinfeld.
"One Night Stand" is a unique show that allows an up-and-coming American comedian to perform in this Parisian theatre, in English, and on a stage renowned for its closeness to the audience.
Ryan Hamilton was the star of the first "One Night Stand" on September 18. The audience, half French and half English, was won over by his smile.
Le théâtre de l'Œuvre is perfectly suited to scouting for talent, with its eclectic programme that seeks to showcase contemporary artists and directors.  
>> The next "One Night Stand" will present Jordan Rock – Chris Rock's brother – on October 30.