Vivendi for Brands at Cannes Lions
Published on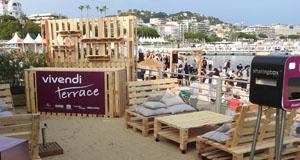 Until June 23, Vivendi and its businesses will showcase how the Group's content and talent can propose compelling entertainment solutions to brands.
Vivendi is part of the Cannes Lions, International Festival of Creativity, the event that hosts a diverse community of communications, marketing, entertainment from 100 countries worldwide.
As part of this event, Vivendi has renewed its sponsorship with the Lions Entertainment, the specialist two-day event dedicated to the future of entertainment industry, on June 21-22 at the same place. Through its entity Vivendi for Brands, the Group believes and invests in the creativity of its talent to inspire compelling stories, unique content and live experiences, dedicated to brands.
Located next to the Palais des Festivals, Beach Side, Vivendi hosts its « Vivendi Terrace », a Cabana where visitors discover and experience the rich entertainment and brand solutions offered in particular by Universal Music & Brands, Canal Brand Factory, Gameloft Advertising, Vivendi Village and the exclusive pre-launch of the new Dailymotion.
Among the wide range of events proposed during those five days, please note the 'Lions Entertainment & Media Man of the Year ceremony' on June 21, honouring Sir Lucian Grainge, Chairman & CEO of Universal Music Group. He will be the first music executive honoured with the award.
>> Discover the Cannes Lions schedule here.