Vivendi joins the Alliance to Better Protect Minors Online
Published on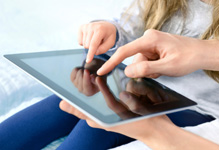 The Alliance to Better Protect Minors Online, of which Vivendi is a member, unveiled its Statement of Purpose today. A European Commission initiative, the Alliance aims at protecting the youth from the harmful content and behaviors on the Internet.
The Alliance to Better Protect Minors Online (that takes up the work of the « CEO Coalition to make the internet a better place for kids », in which Vivendi participated in 2012) is a major initiative led by the European Commission with tech and telecoms companies, broadcasters, NGOs involved in younth protection and UNICEF. The parties committed themselves to work towards curbing harmful content, conduct and contact in a statement of purpose, issued today on the occasion of the Safer Internet Day.
The Vivendi Group has defined empowerment and protection of young people in their use of digital media among its three strategic CSR issues. The Group joined the Alliance to Better Protect Minors Online and signed its Statement of Purpose in order to take part in the debates and anticipate the possible impacts of the actions taken on its activities. A working group comprising representatives from Universal Music Group, Canal+ Group, Dailymotion, Gameloft and Studio+ has been set up and aims at bringing solutions for a safer and better Internet.