Vivendi takes part in the United Nations Private Sector Forum
Published on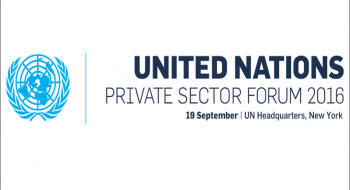 A signatory of the Global Compact since 2008, Vivendi has been invited to participate in the Private Sector Forum hosted by the United Nations on September 19, 2016 on the sidelines of the 71st General Assembly.
One year after the adoption of the new global sustainable development agenda, the Forum will focus on the role of business in achieving the Sustainable Development Goals (SGDs) by 2030. With the theme of "Business and the 2030 Agenda: Securing the Way Forward", the 2016 Private Sector Forum will highlight the contribution of the private sector to the promotion of peace and social cohesion and to the prevention of instability.
Some 350 Heads of State and Government, business executives,  leaders from the UN and civil society, investor groups and artists will attend the Forum in New York. The list includes Ban Ki-Moon, United Nations Secretary-General, Justin Trudeau, Prime Minister of Canada, Carolyn Miles, President of Save the children and the filmmaker Richard Curtis.
To find out more