Vivendi to partner on international "Manufacturing Curiosity" conference
Published on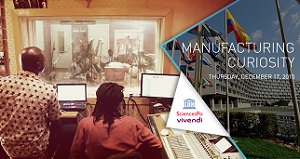 Vivendi is partnering on the international "Les nouvelles fabriques de la curiosité" or "Manufacturing Curiosity" conference, organized by the French National Commission for UNESCO in partnership with the latter. The conference will take place on 17 December at UNESCO headquarters.
This international conference is being held to mark the 10th anniversary of the UNESCO Convention on the Protection and Promotion of the Diversity of Cultural Expressions. It will bring together major players from the Internet and media, as well as artists, researchers and representatives of various institutions, for joint reflection on new online methods of shaping individual taste.
Promoting cultural diversity in content production and distribution has been a priority of Vivendi's corporate social responsibility (CSR) policy since 2003. Involving young citizens and students in these reflections is an integral part of Vivendi's CSR approach. Therefore, in conjunction with this conference, a number of Sciences Po – Vivendi prizes will be awarded to 17- to 19-year-old students in the Europe-Africa program for the best essays on the topic of "Culture and digital technology in support of sustainable development in Africa."
The prizes will be awarded by a joint jury representative of the Vivendi-Sciences Po partnership. On Vivendi's side, the jury members are: Cathia Lawson Hall, a member of Vivendi's Supervisory Board, David Mignot, CEO of Canal+Afrique, Pascal Nègre, CEO of Universal Music France, Italy, Africa and Middle East, and Pascale Thumerelle, Vivendi's CSR director.
The winning essays will be published on the Culture(s) With Vivendi website.