Vivendi: 2014 earnings in line with expectations Numericable-SFR and Altice offer accepted
Published on
Paris, February 27, 2015
Note: This press release contains audited consolidated earnings established under IFRS, which were approved by Vivendi's Management Board
on February 11, 2015, reviewed by the Audit Committee on February 20, 2015, and the Supervisory Board on February 27, 2015. They will be submitted for approval at the Annual General Shareholders' meeting to be held on April 17, 2015.
Vivendi: 2014 earnings in line with expectations
Numericable-SFR and Altice offer accepted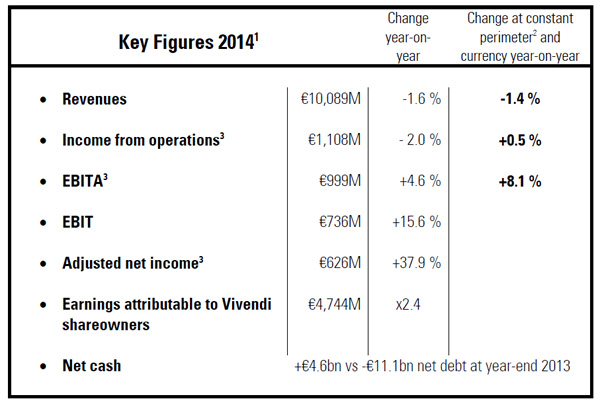 The Vivendi Supervisory Board met today under the chairmanship of Vincent Bolloré. It examined the Group's consolidated accounts for the year 2014, approved by the Management Board on February 11, 2015.
>>> Click here to read and upload the Press release (pdf)
---
[1] In compliance with IFRS 5, GVT (as from the third quarter 2014), SFR (as from the first quarter of 2014) as well as Maroc Telecom group and Activision Blizzard (as from the second quarter of 2013) have been reported in Vivendi's Consolidated Financial Statements as discontinued operations. Vivendi deconsolidated SFR, Maroc Telecom group and Activision Blizzard respectively as from November 27, 2014, May 14, 2014 and October 11, 2013, i.e. the date of their effective sale by Vivendi. Therefore neither GVT nor SFR, nor Maroc Telecom group, nor Activision Blizzard were included in revenues, income from operations, EBIT, EBITA, and adjusted net income. Their respective contributions to earnings attributable to Vivendi SA shareowners as well as any capital gains were recorded under the line "Earnings from discontinued operations".
[2] Constant perimeter reflects the following changes made in the consolidation scope:
– at Canal+ Group: it excludes the impact in 2014 of the acquisitions of Red Production Company (November 22, 2013), of Mediaserv (February 13, 2014) and of Thema (October 28, 2014); and
– at UMG: it excludes the impacts in 2013 of operating the Parlophone Label Group repertoire.
[3] For the reconciliation of EBIT to EBITA and to income from operations, as well as of earnings attributable to Vivendi SA shareowners to adjusted net income, see
appendix IV.
---