Creating value for artists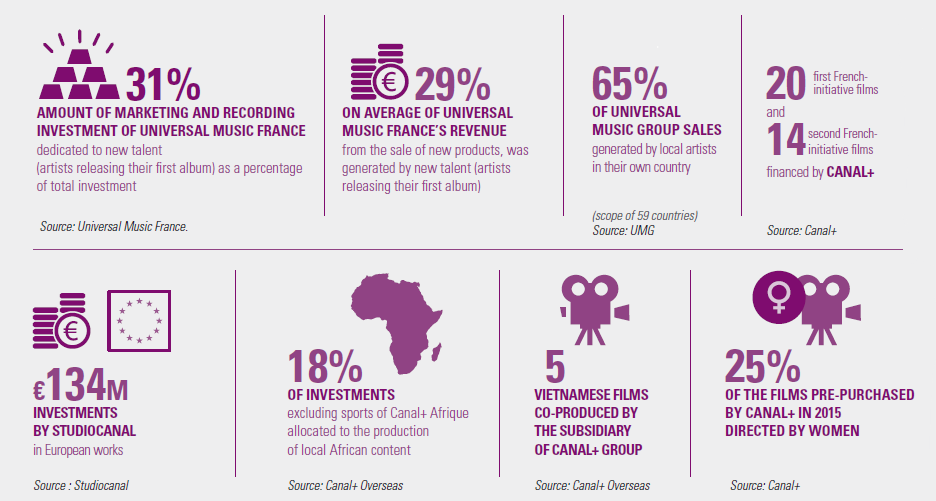 It is essential for Vivendi to create value for the artists and the talent that produce the cinematographic, musical and audio visual content or the entertainment programs that the group offers its customers, its subscribers and its different audiences. Discovering creative sources, paying special attention to the contribution of women and their access to cultural life, identifying talent, supporting it, ensuring respect for intellectual property, providing this talent with exposure on a local and international scale are at the core of Vivendi's missions.
In this way, the investments of Universal Music Group, the world leader in music, contribute to musical creation by discovering and supporting artists in all the countries where this group has a presence. This mobilization of financial resources and employee know-how creates a continuous renewal of the repertories that satisfies the diverse tastes of audiences on a global scale. It also favors the attraction of local talent eager to be signed by prestigious labels with an international reputation.
Canal+ Group, the leading French audio visual media group, established in France, Africa, Poland and Vietnam, is the main contributor of funds to French cinema and the European leader in the production and distribution of films and TV series along with its subsidiary Studiocanal. Cultivating the creativity of local talent and taking advantage of the pooling of the group's areas of expertise strengthens artists' exposure.
Update date: