Vivendi at the Forum of the Alliance of Civilizations
Published on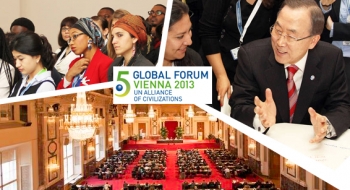 Vivendi was honored to be invited by the UN to speak at the 5th Forum of the Alliance of Civilizations (UNAOC), which took place last February 27 and 28, in Vienna. In the presence of Bank Ki-Moon, General Secretary of the UN, this event brought together policy makers, business leaders and representatives of civil society towards one common objective: to include cultural diversity and intercultural dialogue in the global agenda for sustainable development. More than 2,000 decision makers and opinion leaders from Europe, America and the Middle East participated in the last edition of the Forum held in Doha in December 2011.
Vivendi took the floor in three sessions dedicated to the following topics:
"Diversity in media content"
"Promoting intercultural understanding, diversity and inclusion: learning from the corporate sector experience and mainstreaming in policy"
"Entertainment media: engaging audiences with intercultural dialogue"
During these sessions, Pascale Thumerelle, Vivendi's Corporate Social Responsibility VP, invited the companies from the cultural industry to share Vivendi's good practice: to include objectives related to promoting cultural diversity into their Senior Executives' Variable Pay. Reminding that the promotion of cultural diversity and intercultural dialogue are strategic issues for the group's societal responsibility policy since 2003, she also made a demonstration of Culture(s) with Vivendi. This website is a concrete example of the group's strategy, which aims to facilitate access to knowledge, encourage the expression of talent and participation in cultural life, and promote a spirit of openness.