Canal+
Lafitte and Kiberlain to star in upcoming film
Filming has begun on a dramatic comedy that brings together Laurent Lafitte as a famous singer and Sandrine Kiberlain as his biggest fan, of whom he plans to make an impossible request. Shooting will continue until December 16, 2013 in Paris, in the surrounding region and at the Swiss-French border. The film is due for release in the second half of 2014. Elle l'aime, elle l'adore, a coproduction of Productions du Trésor and Chi-Fou-Mi Productions, will be coproduced by Egérie Productions, StudioCanal and TF1 Films Production, with support from Indéfilms and Cofinova and the participation of Canal+, Ciné+ and TF1. Studiocanal, the film's co-producer, holds all distribution rights for the film.
---
Universal Music Group
Gréco sings Brel

It was written in the stars that Juliette Gréco would one day record an album of Jacques Brel's songs, but she knew and loved his music too much for this recording to take place either casually or impulsively. Instead, it is at once a work of loyalty, out of friendship for the songwriter, whom she knew, and a true tour de force as a performance. On this album, released by Deutsche Grammophon, we find hits that Gréco has performed onstage ("J'arrive," "Ne Me Quitte Pas," "Ces gens là," "Bruxelles" and others), with an updated sound thanks to Bruno Fontaine's fresh arrangements, as well as the heart-rending final track, "Chanson des Vieux Amants." This album is a rare, emotion-filled pearl, a musical gem representing a waking dream for Brel fans and indeed for everyone.
---
SFR
An intellectual and athletic challenge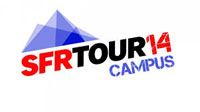 SFR is launching its second SFR Campus Tour student challenge, which will bring together 40 students selected through social networks for a combination of intellectual and athletic competitions. The event will take place on February 5-7, 2014, in La Clusaz. The students will face off to solve a case study based on a real-life SFR issue, and then compete in extreme athletic challenges. Registration is open until December 31 on the SFR Campus Tour Facebook page. Applicants register by answering a series of questions on their motivations and knowledge of the SFR brand and its events, with 20 candidates from different schools and universities throughout France being selected. Each candidate must choose a partner from his or her school to form one of the 20 teams that will take on the 2014 SFR Campus Tour challenge.
---
Maroc Telecom
The Fidelio app
Maroc Telecom regularly expands its range of products and services to better serve its customers. Earlier this year, the operator launched three mobile apps: MT Info, Club Gold and Fidelio. The Fidelio app lets customers access the catalogue of mobile devices offered through the Fidelio program, carry out simulations based on the points they've accumulated and order the telephone of their choice online. They can also pay their bills online, purchase credit reloads using a bank card, locate Maroc Telecom branches and customer relations centers and monitor their consumption.