Universal Music Group
New album from Etienne Daho
Five years after the release of L'Invitation, which became a platinum album and won a Victoire de la Musique Award in 2008, Etienne Daho is back with Les Chansons d'Innocence Retrouvée, which has already been acclaimed by both public and media. For this new album, coproduced with Richard Woodcraft (engineer and mixer of the album The Last Shadow Puppets) and Jean-Louis Pierot (best known for producing the albums Fantaisie Militaire by Alain Bashung and Suppléments de Mensonge by Hubert-Félix Thiéfaine), Etienne Daho collaborated with Nile Rogers (of the group Chic) and Dominique A, who composed one of the tracks. Etienne Daho has also just won the Sacem Grand Prix de la Chanson Française for his career achievements and to recognize the quality of his work, which has set French pop alight for over 30 years now.
---
Canal+
Les Revenants named Best Dramatic Series at the International Emmy Awards


The French fantasy series Les Revenants, produced by Canal+, has won the award for Best Dramatic Series at the 41st International Emmy Awards in New York City. Adapted by Fabrice Gobert from the Robin Campillo film, Les Revenants was coproduced by Caroline Benjo and Jimmy Desmarais for Haut et Court TV. Its story revolves around a village where the deceased suddenly reappear. Broadcasting rights have already been purchased in some 40 countries, including the United States, Canada, Australia and Germany, as well as for the entire Latin American region. Aired in the UK on Channel 4, the series was a huge hit in the spring, achieving the best audience for a subtitled series in the country since 2006. Season 2 is currently being scripted, with filming slated to begin in 2014.
---
SFR
SFR launches SFR Cloud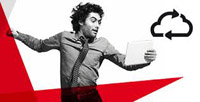 SFR Cloud, included in the Formule Carrée plans, is a multi-screen service with a dedicated application for mobiles and tablets (Android, iPhone/iPad, Windows Phone 8 ) and computers (PC/Mac).In launching the 4G Formule Carrée plans this September, SFR offered a number of integrated services to bring its customers the best that 4G has to offer. The operator is now enhancing the customer experience with SFR Cloud, which now includes access to very-high-speed mobile, SFR Extras, MultiSurf (up to three additional cards), data from 3 Gb to 9 Gb and the latest mobile devices at the best price. The SFR Cloud application is available for mobile and iPhone/iPad, Android, Windows Phone 8, PC and Mac via the www.cloud.sfr.fr site. The offer's full details and conditions can be found at www.sfr.fr/cloud.