A summer of festivals
Published on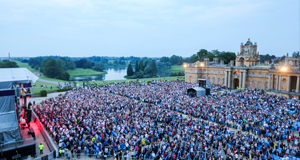 The 2019 festival season is in full swing. An overview of the regional festivals that the Vivendi group is proud to support and grow in Great Britain and France.
Starting today and throughout the weekend, two Vivendi festivals will thrill tens of thousands of people looking for music, live and party: Love Supreme, a well-known festival for all jazz fans, in Glynde, in East Sussex, and Les Déferlantes in Argelès-sur-Mer, in the South of France. With great weather, superb programming and stars like Lauryn Hill, Jamie Cullum, Snarky Puppy, Jimmy Cliff for the English festival, and Macklemore, Roger Hodgson's Supertramp's, 30 seconds to March, ZZ Top for the one in France, the atmosphere will be in full swing for sure.
In Great Britain, U Live organized the Nocturne festival for the fifth time in the wonderful Unesco World Heritage site of Blenheim Palace at the end of June. Said the Oxford Mail, "With acts spanning more than half a century, featuring chart-topping pop acts, legendary performers and new artists, Blenheim Palace's Nocturne Festival pulled in a record number of fans for four extraordinary days of music." Next to come are Sundown, which is held at Norwich from August 30 to September 1, and The Long Road at Stanford Hall from September 6 to 8
160,000 festival-goers: a new record attendance for Garorock (+10%), a must-attend summer event in Gironde, held from June 27 to 30. French headliners Bigflo & Oli, Angèle, Clara Luciani and international artists such as Ben Harper, Marshmello and Sum 41 ignited the scene of the site of La Filhole in Marmande.
To follow, soon in France: Brive Festival, in partnership with the Centre-France publishing group, from July 19 to 22, and Live au Campo in Perpignan from July 19 to 24. Both festivals had a record attendance in July 2018, with year-to-year growth of 15% and 30% respectively.
Olympia Production was called earlier this year to rescue ODP Talence -whose profits are donated to the orphans of the French firefighters -, also in the Bordeaux region. The festival took place in early June and Olympia Production was entrusted with all its programming, ticketing and communication.
In addition, for the second year in a row, Olympia Production was commissioned by Maroc Culture for the executive production and artistic programming of the Mawazine festival in Rabat from June 21 to 29, whose 2,750,000 festival-goers make it the largest free festival in the world. A record attendance for this 18th edition.
Through its subsidiaries U Live and Olympia Production, Vivendi is fully committed to a strategy of live entertainment development, and participates, alongside local actors, in enriching and preserving the diversity of the cultural offer in France's and Great Britain's regions.