Dailymotion to Live Stream the Rio 2016 Paralympics
Published on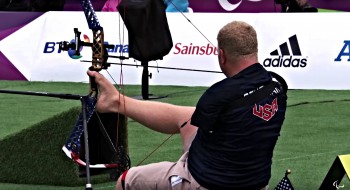 Around 680 hours of coverage from 13 sports will be live streamed by Dailymotion on 15 High Definition channels on the International Paralympic Committee's (IPC) website Paralympic.org during the Rio 2016 Paralympic Games. It also includes highlights of all 22 sports as well as the Opening and Closing Ceremonies.
The IPC selected Dailymotion to provide the streaming services. Dailymotion is the world's second largest video sharing website with three billion video views per month. It also has an extensive network of media publishers, such as news sites, which use the Dailymotion player on their websites.
Craig Spence, the IPC's Director of Media and Communications, said: "We're really excited that during Rio 2016 we will be live streaming 72 hours of sport each day across 15 channels. It will mean that fans from around the world can either watch the Games on TV or on Paralympic.org. We're really excited to be working with Dailymotion for the first time, to use their publisher network and bring the Paralympic Games to new audiences.
"Strategically Dailymotion is a really good choice for the IPC. Half of their user base is located in Asia – the location of the next three Paralympic Games. Although the IPC has strong broadcast partners in South Korea, Japan and China, we hope that using Dailymotion's publisher network during Rio 2016 will help the IPC to build on that for the Games to come".
The live stream, which will have English commentary, will be available in around 240 territories on Paralympic.org and in around 190 territories on Dailymotion.com/Paralympics. A full list of rightsholding broadcasters can be found on the IPC's website. This page will be updated with links to broadcaster streams.
"It's our particular goal to distribute content that captivates and engages our existing community of over 400M global visitors," said Maxime Saada, CEO of Dailymotion. "Our global audience will enjoy the Rio 2016 Paralympics and the Dailymotion player, and our accessibility features will satisfy the public who will discover Dailymotion through this great event".