Music for Youth artists perform at the Royal Albert Hall in association with Vivendi Create Joy
Published on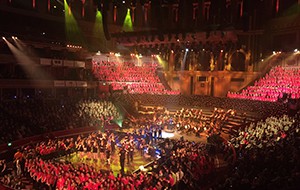 Vivendi's Create Joy program celebrated the richness of young talent in the Music for Youth event at London's Royal Albert Hall for the sixth year running.
Since 2010, Vivendi Create Joy has partnered with Music for Youth, a British organisation which encourages young people to discover their talents through creativity, collaboration and music in all its forms.
The Music for Youth Proms give young people who represent social and musical diversity, the chance to appear on the Royal Albert Hall's iconic stage. Between the 14–16 November, 3000 young people were given the chance to showcase their talents in a range of genres, from classical to pop, rock, R&B, jazz, brass, folk and even heavy metal.
For the past three years, Vivendi has also partnered with Frequencies, Music for Youth's flagship program. The scheme aims to provide mentoring for young, up-and-coming artists who wouldn't traditionally have access to the professional music circuit. Frequencies organises workshops with music professionals and enables them to have a first taste of the music scene.
One of the many highlights of Frequencies and the Proms was Malunga, a 21-year old singer who transformed the 5000-seat auditorium into an intimate jazz club with her captivating voice. At the other end of the spectrum, Black Leaves of Envy's collaboration with Blue Saint managed to raise the roof with a heady mix of hip hop and heavy metal!
Vivendi Create Joy's partnership with Music for Youth is a perfect example of Vivendi's continuing commitment to support talent wherever it's found.