Asphalt 9: Legends to the front of the pack in record time
Published on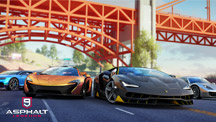 The latest installment of the #1 mobile arcade racing franchise was released globally on July 26 on the App Store, Google Play and Windows PC. A resounding success with over 4 million downloads in less than one week.

The world's most downloaded mobile racing series is back! Gameloft, leader in the development and publishing of mobile games, is fueling up Asphalt 9: Legends, the latest entry in the multi-awarded Asphalt franchise.The franchise's latest entry reached after one week the Top 5 Most Downloaded Games on iPhone in 150 countries, including USA (#4), United Kingdom (#5), France (#2), Germany (#2), Italy (#2) and Japan (#1).
Asphalt 9: Legends brings back the fun of arcade racing games that made it successful and takes it to the next level, blurring the line between mobile and console graphics and integrating a strong multiplayer and social feature set. The game rings a graphic quality to mobile devices only seen on consoles before. The powerful new engine developed by Gameloft delivers high dynamic range (HDR) graphics and physically based rendering (PBR), giving every speck of light enough detail to be reflected as it would in real life. That attention to detail combined with iconic locations and the world's most prestigious cars makes it an amazingly immersive experience.
Asphalt 9: Legends puts the player in the driver's seat as they perform incredible stunts (huge nitro boosts, complete 360°, barrel rolls, etc.) while racing through stunning locations. Asphalt's acclaimed gameplay is expanded in Asphalt 9: Legends with Touchdrive™, a fresh approach to driving controls that adds a layer of strategic decision to the sheer fun of the ride.
Whether using Touchdrive™ or classic controls, intense action transports players into their very own blockbuster experience as they speed through tracks, with the dynamic environment getting in on the action.
Asphalt 9: Legends also brings fierce competition to the arcade racing genre with online multiplayer modes featuring real time racing with up to 8 other players. The Asphalt community discovers how the immersion is pushed even further with fully integrated social features including a clan system and clubs that allow for worldwide cooperation. The connected features of Asphalt 9: Legends provide players with an exciting social experience, and with more to come throughout 2018, there are many multiplayer surprises in store for players all over the world.
More information to be found on the press release here and details of its successful launch here.