The Beatles in the spotlight in September
Published on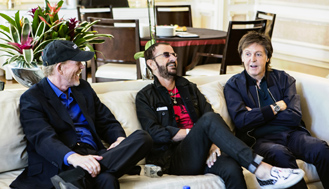 September 2016 is a Beatles month! The Beatles: Live at the Hollywood Bowl album dropped on September 9, coinciding with the worldwide release on September 15 and 16 of Ron Howard's documentary film, The Beatles: Eight Days a Week – The Touring Years, focused on the Fab Four's early years (1962 to 1966).
The album includes unpublished recordings of the three unforgettable sold-out concerts given by the Fab Four on August 23, 1964 and August 29 and 30, 1965 at the Hollywood Bowl in Los Angeles. The album includes such mega hits as Twist and Shout, Ticket to Ride and A Hard Day's Night; among other known or lesser known songs.
In addition to the songs included on the The Beatles at the Hollywood Bowl album released in 1977, which is out of print today, the new album includes four previously unreleased tracks (You Cannot Do That, I Want to Hold Your Hand, Everybody's Trying to Be My Baby and Baby's in Black).
Giles Martin, the son of The Beatles' producer George Martin, produced, remixed and mastered the 17-title album at Abbey Road Studios.
Ron Howard's two-hour long documentary film, Eight Days a Week – The Touring Years focuses on the memorable beginnings of the Beatles career marked by the frantic appearances of the band all over the world – more than 815 concerts given in 15 countries and 90 different cities! – up to their final concert given 50 years ago at San Francisco's Candlestick Park. This is the Beatles' first full-length authorized documentary and is brought to us by the Oscar-winning director of A Beautiful Mind and Apollo 13. In 2013, Howard produced Made in America, another music-related feature-length documentary based on Jay Z's famous music festival.
Eight Days a Week: The Touring Years was released this week in selected theaters where showings included a half-hour of restored footage from the Beatles' 1965 concert at New York's Shea Stadium.
StudioCanal, which co-financed the film, will distribute it in several territories and manages the global sales rights (excluding the USA and Japan).