Vivendi launches the Tour de l'Espoir 2018
Published on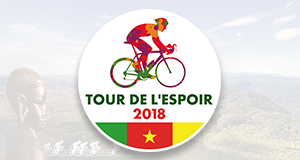 With this newly-created race, the Nation's Cup for road cyclists under 23 years of age is held in Africa for the first time.
During a press conference held today in Yaoundé (Cameroon), Vivendi Sports announced that from January 31 to February 4, 2018, the 2018 Tour de l'Espoir – the first of six races in the Union Cycliste Internationale's Under 23 Nations' Cup – will be held in Cameroon, the very first time this competition takes place in Africa.
The 2018 Tour de l'Espoir will operate under the auspices of the Fédération Camerounaise de Cyclisme, and will include four road-race stages as well as a rest day. The competition will begin in Douala, with the cyclists leaving from CanalOlympia Bessengué. It will end at the center of the University of Yaoundé 1 campus near the CanalOlympia hall.
The Union Cycliste Internationale's Under 23 Nations' Cup is a series of road cycling competitions for cyclists between 19 and 22 years old. In the Nations' Cup, which is reserved for national or mixed teams, the different nations accumulate points to determine, based on the final ranking, how many places each of them will have in the Espoir road-cycling world championships.
In 2018, the 12th edition will comprise six races, including the 2018 Tour de l'Espoir, which will open this annual competition and consist of 15 teams, most of them African.
All the Vivendi Group's channels, including Canal+ and A+ Sport, will cover this event. Daily reports will be available on Dailymotion and dedicated social networks. 
Vivendi Sports is part of the Vivendi group, and will organize events in various sports over the coming years. 
Before the event Vivendi will hold a training session for staff who will be filming for television channels, with a view to familiarizing them with the constraints specific to filming this type of competition.
All the information on this event is available at the www.tourdelespoir.cm site, and news about the race will be found on Facebook, Twitter and Instagram.